We have added two interesting and useful features in our OrangeHRM Leave Calendar module. With these two add-ons, now our module is the best in the market with all the required and advanced features. Lets see how these two improvements in our OrangeHRM Leave calendar module will make the life of your HR Manager easier:


1. Leave Legend Color Customization


Now Administrators can customize legend color of each leave types. He can easily chose different color for different types of leaves. Using different colors for different types of leave will make it easy to identify leaves in the calendar view. Instead of going back and forth, you can quickly identify the type of leave an employee has taken or applied. The Administrators can assign legend colors for each leave type by simply selecting the color picker tool in our OrangeHRM plugin.



2. View Yearly Leave Calendar for any Employee


Now Administrator can view all the leaves of an employee in an yearly calendar view. For this, the Administrator has to provide the name of the employee and select the year for which he want to see all the leaves taken/applied by that employee during that entire year. The module will display all the leaves of an employee in a nice yearly calendar, providing leaves in each month and with colored leave legends. Also, there is a handy table on this page to display the total number of leaves taken of each leave type in each month.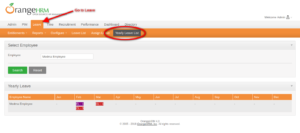 These two above improvements are included in our latest OrangeHRM module. You can buy this useful module from our store here. The module includes detailed instruction manual for installing & configuring the module at your server. Please feel free to ask for any customization in the module, if you require.